As always you can find all the entries in this series in reverse chronological order
here
.
Today was my first full day at Fort Myers and I did not make the trip across the highway to see the Twins play the Red Sox, but instead I went to the back fields where the Twins' high A and A squads faced the equivalent Rays' teams. Here are my notes from the day: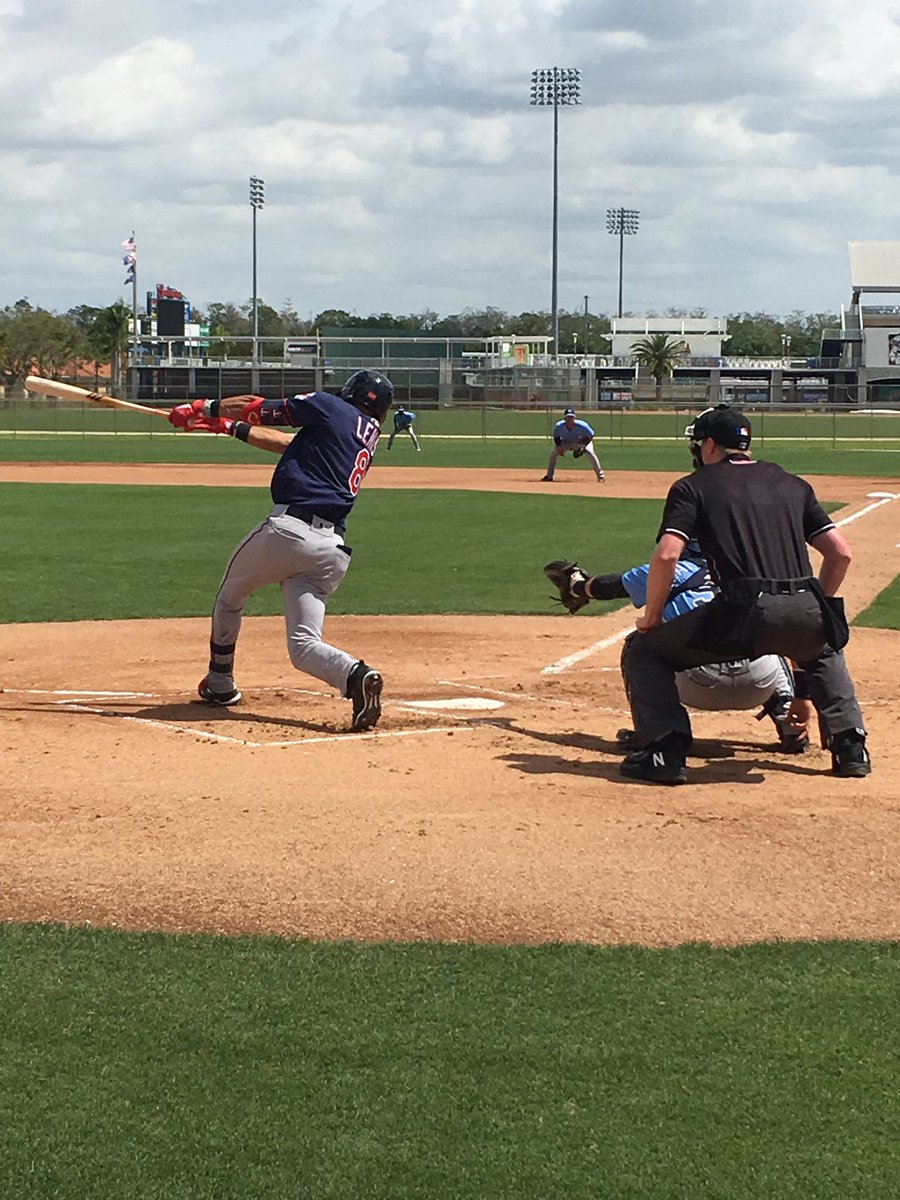 Zack Littell started the high A game for the Twins and pitched for an inning. Before the game he was working on the pen with the Twins' assistant pitching coach Jeremy Hefner and the Twins' minor league catching coordinator Tanner Swanson on two things: Tweaking his delivery so he uses more of his hips than his shoulders and targeting the lower part of the zone (Swanson emphatically was pointing that the target should be the groin area.) His catcher, 20 year old Kidany Salva, was working on framing the low pitches as strikes, as is the direction throughout the organization. The approach worked in the game, since he got 3 ground ball outs, but let's not forget the competition level.
In the game for the Twins there were high rated prospects, shortstops Royce Lewis and Wander Javier; however one prospect who is not a household name, had an eye opening performance: RHP Edwar (Eddie) Colina. The 21 year old Venezuelan who was signed as an 18 year old International Free Agent, put himself on the radar last season after pitching a no-hitter at Cedar Rapids. This spring, he ticked it up a few notches: His fastball that was plus, is now plus plus with a 97-99 mph velocity and wicked movement. His 84-85 mph changeup is a plus pitch and his 88-90 mph slider is average but flashes higher. All of his pitches have swing and miss potential and at this point he has two major league quality pitches. He made it as high as Fort Myers for two starts last season and he will likely start 2019 there as well, but keep an eye on him, he might finish the season in the majors. He was groomed as a starter and the Twins will keep him starting for as long as they can; however I believe that his future is at the end of the pen. He got a bit tired the 3rd inning of pitching (he pitched innings 2,3 and 4), loosing a couple of notches of his FB (down to 95-97) and some command. Have to remember that this was the first minor league game of Spring Training.
The aforementioned Lewis and Javier, both coming from ailments of different severity squared at the ball well, and the looked pretty healthy. Lewis had a double and took a violent cut at a swing and miss without flinching, which makes me think that the oblique is healed.
There were several interesting pitchers in the game: Undrafted free agent from 2017 big (6-7/245) 24-year old lefty Kevin Marnon showed some promise, but has to tighten his delivery. He is pretty deceptive and can be effective, especially against lefties. RHP Jared Finkel, the Twins' 17th round pick in 2017, is a side thrower with a 84-87 mph fastball, a 77-80 mph changeup and severe command issues. RHP Calvin Foucher, the 10th round pick in the same draft, throws overead and has a close to plus 77-81 mph hammer curve, but his fastball is flat one at 90-91 mph, and he has command issues, which is not a good combination. From the other field, which I did not pay much attention, RHP Andrew Cabezas, the 18th round pick of last year's draft, has a plus changeup that I absolutely have to see again, and LHP Zach Neff, the Twins' 31st round pick last season has a very deceptive delivery. A couple names that made my notebook.
As far as position players went, in addition to the aforementioned, Lewis and Javier, there were a few other top ranked prospects: Yunior Severino has a really free swing and a couple of times lost the bat, once over the "dugout" cage. The 19 year old looks like an athlete, but is very raw and lacks discipline. Andrew Bechtold looks more like the tentative one from 2018 and not like the very good hitter of 2017. Tentativeness is the issue here. He just needs to be more aggressive. Not sure what to think of Trey Cabbage anymore. He is a first baseman now and has a hard time making contact. He will be 22 in two months and had an average season finally last year when he repeated Cedar Rapids, but I am afraid that the road is uphill for him. Trevor Casanova, the Twins 13th round pick last year had a very good presence as a catcher, but he made 2 bad throws at second base that should have been easy outs. First baseman Chris Williams, 8th round pick last season, was all business with the bat, hitting a bases clearing double. One to watch.
In other news C Ben Rortvedt and another player I did not recognize in civvies, were carrying their equipment to the minor league locker rooms. They seem to be the next cuts from the big camp.
Tomorrow I will be watching the Twins against the Nationals and will have additional insight on the major league club.