Today the Minnesota Twins hosted the Pittsburgh Pirates at Hammond Stadium. As usual, before the game I trotted by the minor league fields that today were hosting a celebrity from the baseball world: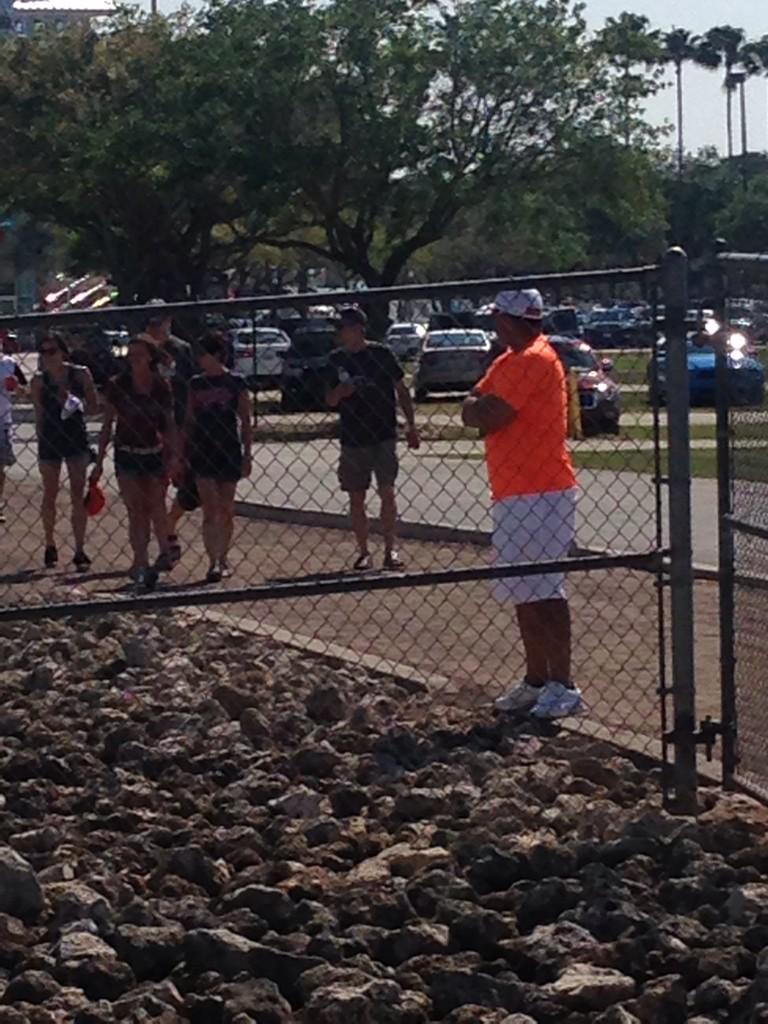 A dad watching his kid pitch a bullpen:
And then walk with him after he was done: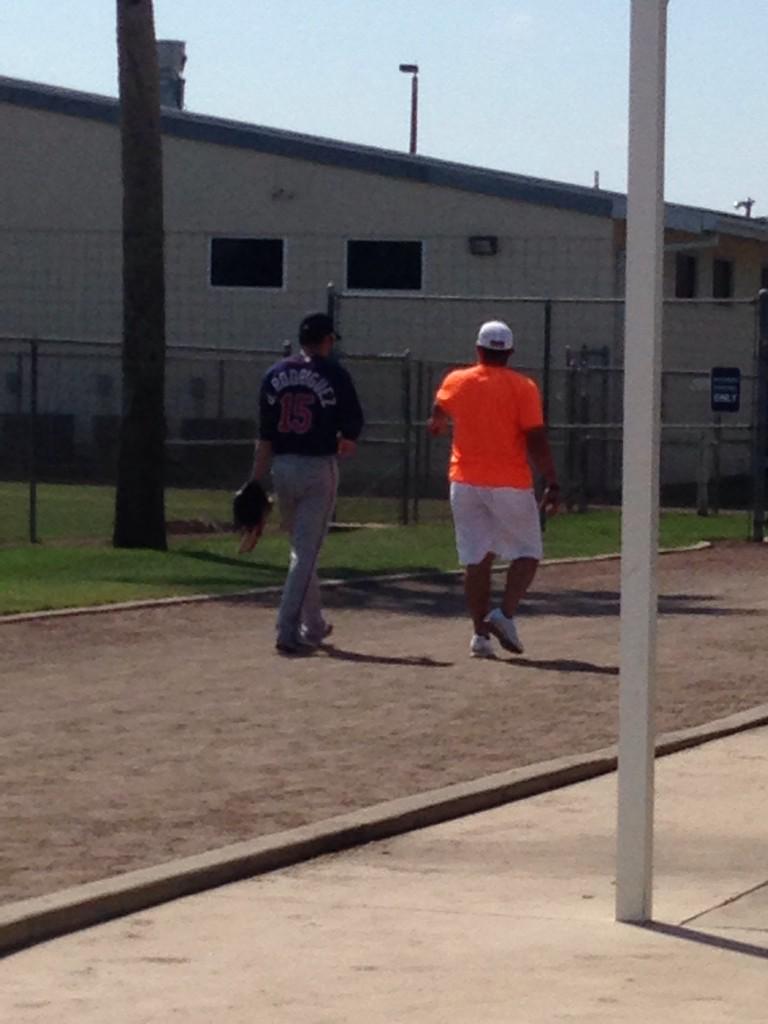 Interesting enough, not many fans had an idea of who the dad was. And he was about as humble as a baseball superstar as I have seen. He had his picture taken with fans and shook his head and smiled when I told him that his kid has a great arm, from one dad to another. And
Derek Rodriguez
does have a great arm. He was tossing nice crisp fastballs when he got his mechanics right. But his mechanics were all over the place to begin and his pitching coach was there talking to him pitch after pitch, and Derek incorporated the feedback. I think that making the transition to pitching will be hard, but I think that he has the determination, the tools and the family and Twins support to do it. Will likely start 2015 in Extended Spring Training, but I fully expect him to see him progress fast.
Every Spring Training there are a couple of players who are relatively unknown, but do make an impression to me. The first one I will point this year is
Jack Barrie,
a 19 year old Aussie First Baseman who made his pro debut last season
with the GCL Twins
. This kid has Kennys Vargas written all over him. Great plate presence, quick wrists, one to keep an eye on. And I bet you never have heard of him.
Back to the big boys playing the Pirates.
Kyle Gibson
started for the Twins and after
his recent discussion about adding velocity
, I was betting that we'd see at least one 95 mph fastball on the (2 mph or so) fast Hammond Stadium radar, and we did. The problem with Kyle today was that his 93-95 mph fastballs were lacking the movement and the downward break his 90-92 mph fastballs did. Also his slider was not there (he threw 2 in the first innings, including the first HR to Cervelli). In the third inning, he seems that he threw all sliders and change ups. At least he was working the kinks out. No worries about Gibson.
In a tale of two who are fighting for the 25th man spot on the roster.
Eduardo Nunez
beat out a cleanly-fielded ground ball to the SS (our own Pedro Florimon, btw) for an infield hit and managed to steal second two pitches afterwards.
Shane Robinson
(who is fighting for the same spot,) drove him in with a scorcher on the first base line and then, after Dozier was hit by a pitch to fill first, was thrown out at third on a double steal that found Dozier safe and sound at second. Robinson had some decent plays at left today, but I still think that Nunez is probably fighting with Herrmann (who did not play) for this spot as is now...
Back to arms.
Blaine Boyer
came in to pitch in the middle of an inning and was effective. And then pitched another inning and was effect, but in his second inning his velocity picked up a few notches. His fastball moved from 89-90 all the way to 93-94, his curve from 73 to 76 and he threw some change ups at mid 80s (all well commanded, btw,) which made me think that indeed there might be some pitchers who are different (and better) if they come up with no outs and no ons on the top of an inning.
Michael Tonkin
and
Stephen Pryor
followed. Tonkin, who have since been opted, topped up at 94 and so did Pryor, who really did some nifty glovework in a comebacker, which made me think whether there are any real fastball pitchers left on the roster, since that gun is 2 mph or so fast and these 3 are pitchers touted to hit high 90s. Maybe too early, but still somewhat concerning...
In another note, it was great to see Toper Anton again, and meet Steve Lein and John Bonnes. See you guys around the next few days.