Today the Minnesota Twins played against the Rays at Fort Charlotte, which meant minor league side by side double-header action of Rochester and Chattanooga against the Red Sox' AAA and AA squads at fields 4 and 5 of the Complex.
The much anticipated moment today was the return of
Glen Perkins
who got the first inning with the AAA club against the PawSox. Based on reports from people who were at Fort Charlotte, he did not feel any pain. He was carted to and fro field number 4, which is the furthest away from Hammond Stadium and he threw warmup tosses to Kyle Knudson, who was also the starting Catcher for the Red Wings. During the game, he threw 14 pitches, most strikes. His fastball was sitting at 90-91, hitting 92 and 93 once each. His slider was at 81-82, all figures that are a good 4-5 mph below his season form, but it is still the second (he pitched against the Gophers) game for him. During his warm ups he did seem to throw a couple of changeups, but could had just been slow fastballs. All in all a good appearance, but he has to ramp up pretty quickly.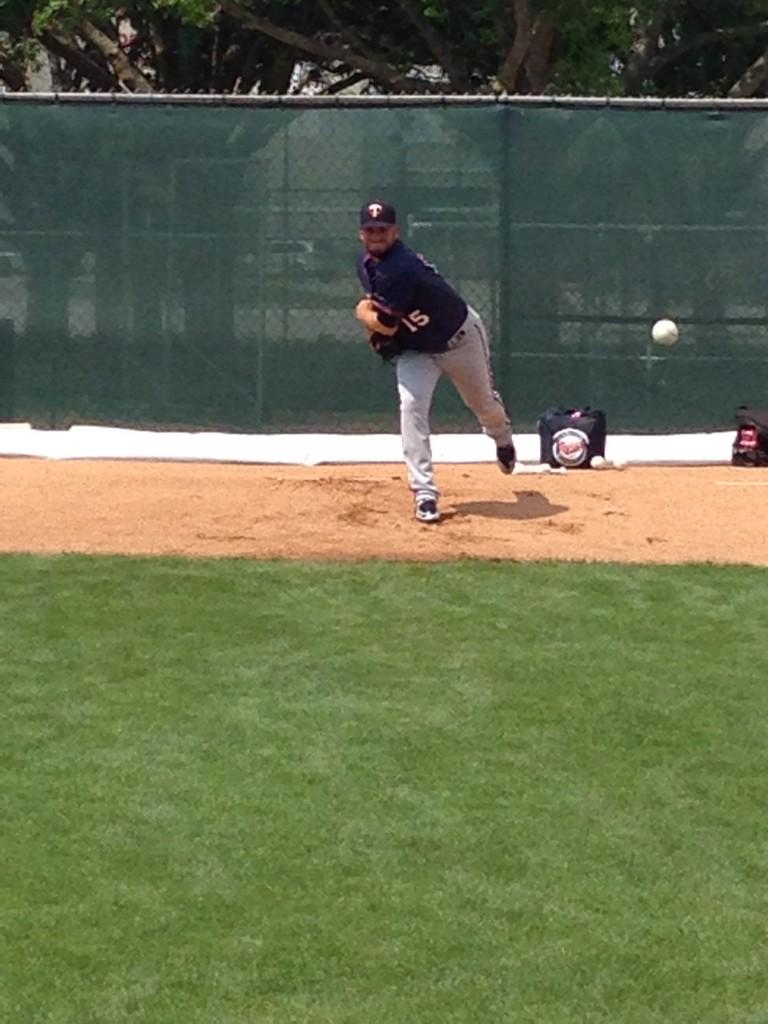 The second biggest name, as far as players are concerned, was
Miguel Sano
who played at Field number 5 with the Chatanooga squad. His agent, Rob Plummer, was on site and had a change to have a very enlightening (but off the record) conversation with him. Interesting guy and he seems really proud of the fact that he signed Sano when he was 14. Miguel answered with a three-run monster home run that likely broke a window or two at the subdivision past the fence, with this swing, off
William Cuevas
: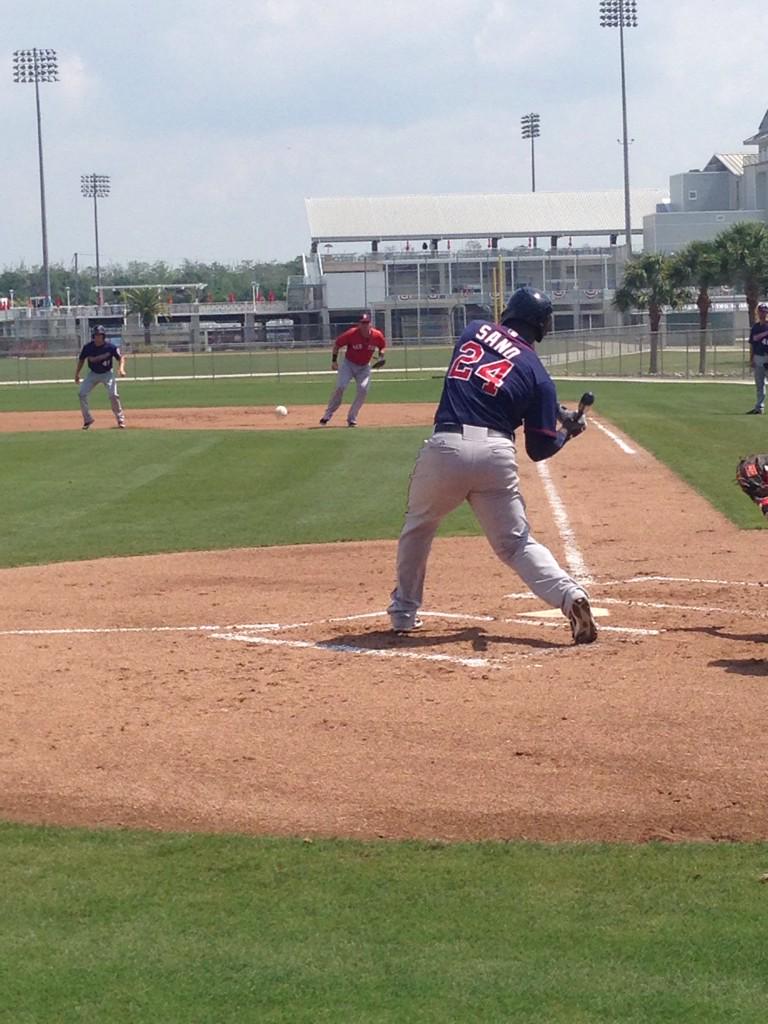 As a side note, Sano appears fitter than last season.
Speaking of celebrities, Tom Kelly was at hand and had a chance to meet with one of his former pitchers, Paul Abbott, who pitched for Kelly's Twins from 1990-1992: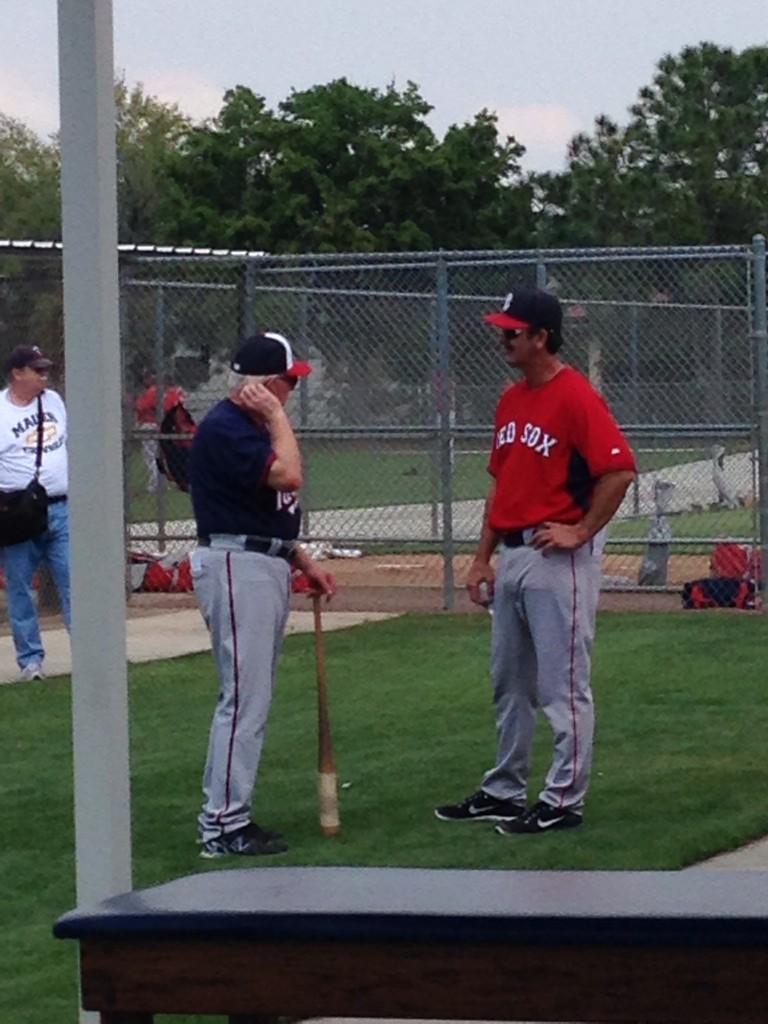 I had a chance to see several other prospects and here are quick notes:
Greg Peavey
was selected by the Twins from the Mets in the AAA portion of the Rule 5 draft last winter. He came in to pitch after Glen Perkins in the AAA side and was pretty impressive. He has three pitches: A 90-91 mph Fastball, a low 70s slow curve and a low 80s change. Pitching mostly with the first 2, but his change did produce strikeouts. Good control and command of all his pitches, very fluid motion; he is definitely a dark horse. A mature pitcher. Also in the AAA side of things,
Cole Johnson
made a good appearance. He is a fastball slider pitcher with his FB hitting 94 but his slider location was inconsistent. Pretty early in Spring training for that.
On the AA side of things, both
Nico Goodrum
and
Michael Gonzalez
appear different. Gonzalez appears much fitter and for the 27 year old, this might be his last chance in a Twins' uniform. Goodrum has been working with a personal trainer this off-season and he got some muscle. He is also taking much more robust at bats, than last Spring Training. If you squint really hard, you might confuse him with Byron Buxton, as far as physique goes:
As far as the pitchers at the AA side went,
Tyler Duffey
started, but I chose to look at Glen Perkins and Greg Peavey next door. I did have a good look at
Jeff Reed
, who was unhittable at the Arizona Fall League and was really impressed. His fastball was at 95-96 this early and his slider at high 80s. I will not be surprised is he and
Nick Burdi
are with the big club come August or so. Interesting 3/4 delivery with a fairly aggressive motion.
Tim Shibuya
pitched a couple good innings. He is really deceptive and one of those "rubber arm" guys. Good repeatable mechanics, good control and command, I really see him as the long man in a major league bullpen some day.
It was a treat seeing
Jorge Fernandez
,
my 19th Twins' prospect
, to catch today. Really good hands , excellent feet (he got a guy out on a difficult high bounce off the home plate) and very good receiving ability. I never had any doubts about his bat, but really liked what I saw with the glove today. He is a guy who is not considered a prospect, does not get many praises, but I really enjoyed watching
Stephen Wickens
play today. Good fundamentals and instincts on both sides of the ball, good glove and versatility, might get the 26 year old into the big leagues some day, if he gets his contact rate and plate discipline a bit higher.
As a parting shot, here is
Sam Perlozzo
, the long time major league coach and manager, who started his playing career with the Twins, having an 1 on 2 base-running tutoring session with the
Twins' number 2 and 3 prospects
.
Tomorrow the Twins are hosting the Pirates at Hammond Stadium and I will be there. You can find all my 2015 Spring Training posts
here
.