Today, for the second start in a row, the Twins chose not to pitch
Phil Hughes
against the Orioles (a team they open the season with 3 games in Baltimore.) Instead Hughes pitched 5 innings in the back fields with the Twins' A+ team against the Rays' A+ squad.
Curt Suzuki
was there to catch him. Next door with the A squad,
Kevin Jepsen
pitched the first inning and
Oswaldo Arcia
had 3 plate appearances as a DH against the Rays' A team.
Phil Hughes labored for 5 innings with 78 pitches, including a 28 pitch second inning, in which the defense behind him failed to convert 3 straight forward double play opportunities. He thew 55 of those pitches in strikes and commanded the ball pretty well, inducing mostly weak ground balls, a couple of fly balls and a couple of strikeouts. His fastball was at 89-91, with one at 92, his cutter 86-91, changeup 81-84 and curve 77-79 mph. These numbers were close to his 2015 velocity averages (90.7 for the FB, and 87.8 for the cutter.) All in all it was a "getting his work in" type of session for Hughes, who by no means cruised against high A competition.
Across the field,
Kevin Jepsen
had a better game, of what I could catch with my peripheral vision, but
Oswaldo Arcia
stole the show there, hitting a home run close to the major league practice field, under the watching eyes of scouts from the Cubs, Padres, Athletics and another team. The same Rangers' scout who was there yesterday was the single scout scouting Hughes and the Twins' A+ team.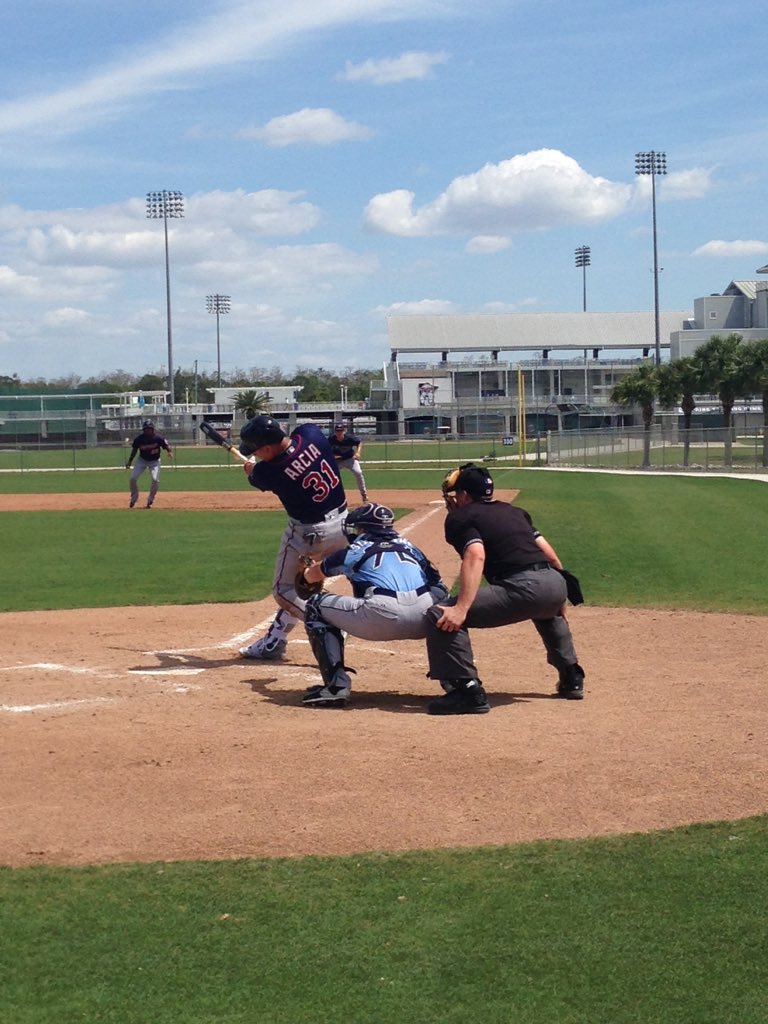 Additional impressions from the A team field:
Amaurys Minier
, the Twins'
number 15 prospect
for 2016, played First Base, coming off an injury plague season in Elizabethton. His swing seems more compact that it did last season and he legged out a single in a not very hard hit ball at the SS and had another opposite field single at an outside corner ball with full count. Also went from first to third with ease on a ball hit to Right Field. His speed and running has been improved, since Minier has been pretty much a non-factor in the base paths his whole career. He made a couple of good fielding plays at first base, moving easily both to his left and to his right and made secure and on the spot underhand throws to the pitcher to get the outs.
Jermaine Palacios
, the Twins'
number 8 prospect
for 2016, played Short Stop at that game. He seems not to have gained a pound last off-season, but his fielding, which has been for a good reason, was fine. He made several routine plays at shortstop and did not look tentative making them, but he was not really challenged. In the couple of plate appearances I followed, he showed quick wrists and good contact capabilities.
I saw a single plate appearance by
Travis Blackenhorn
, the Twins'
number 38 prospect
for 2016. He has the capability of making contact since he saw several balls and fouled a lot of them. He went with the ball and was able to move it to the opposite field. Would need work to start making productive contact, but the basics are there. He did not look tentative at all and went around his business like he owned the box. Reminded me a bit of a young(er)
Max Kepler
.
22 year old lefty
Sam Clay
, pitched 4 innings in that contest. He featured an 89-91 mph fastball with good movement in both planes and a low 80s slider and change up. The slider is above average at this point and has the potential of being a plus pitch, but his control with all of his pitches is all over the place. If he learns how to command and control them, the former 4th round draft pick of 2014, will be someone to watch for. But he is still a work in progress. He looks like a good defender, defending a tough bunt towards his throwing arm side flawlessly.
25 year old
Tyler Stirewalt
, a righty who was drafted by the Twins in the 21st round of the 2013 draft and lost all of 2014 and part of 2015 to injuries, also pitched in that game. He threw a 90-92 mph fastball and a 77-79 slurve. Many command and control issues as well, but there is potential there. However being 25 and never pitching above Rookie ball, might mean that there might not be time to realize that potential.
A couple of snippets from the other field:
Max Murphy
, the Twins 9th Round pick in 2014, a Minnesotan from Robbinsdale looked like a man on a mission. This is his age 23 season and he really looks bulked up and much stronger. He legged out a triple in a long hit at the CF over the defenders' heads and scored in the subsequent play by tagging up after a shallow ball at the RF. After an excellent 2014, he did not do much last season in Cedar Rapids, but definitely someone to pay attention to this season.
Felix Jorge
, the Twins'
number 20 prospect
for 2016 pitched 2 innings for the high A team. I had a chance to watch one of them. His sinker was from 91-93 with good heavy action and his changeup was in the low 70s and it was pretty much lethal as usual. Seemed to have good control with the fastball, which has been questionable in spots. The big question mark around Jorge is weather he will have the stamina to be a started, which will likely take more than a season to answer.
Regretted not seeing
Nick Gordon
and
Lamond Wade
who were injured as well as
Trevor May
who threw after I departed.
Tomorrow
Ricky Nolasco
will be starting in the back fields, while the Twins will be playing the Red Sox at the Jet Blue Stadium and I will be there to give you the action on the field by him, as well as by the scouts on the bleachers.